In the past decade, communication and digital data transmission have undergone remarkable transformations, with significant changes in the way people interact and exchange information. This shift coincides with the rise of smartphones.
Suppose you're running an online website that communicates directly with the public or with people in your field. In that case, there's no escaping the fact that you need an application.
Mobile Application Development let us keep in touch with our visitors to our website, customers, friends, or readers of content. They allow us to provide updates, send marketing materials, or offer special offers and faster service. They ease the use of our services and provide access to the internet 24/7.
Apps are for more than just the future. They're present in the present, and if your site still needs an app, you're missing out on possibilities that could help take your site's goals to a new level.
Mobile apps provide a better-personalised experience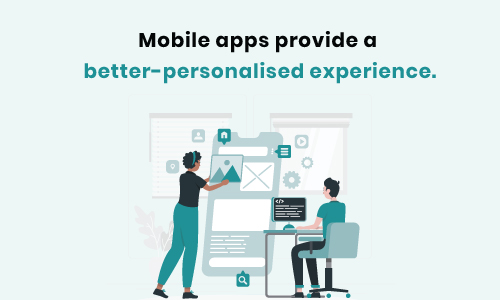 Personalisation is a way to provide personalised messages to users based on their preferences and location, their usage habits, and much more.
Mobile apps make it simple to give users a customised experience. With a mobile app A/B test tool, you can test different customer experiences.
Mobile apps allow users to choose their preferences from the beginning, based on which they will be provided with personalised content. Apps can also track user engagement and use it to offer personalised recommendations and updates to users. Also, they can determine the location of users in real time to provide specific content based on the geography of the user.
However, enhancing user experience is one of many goals that personalisation is used for. It can also aid in improving the conversion rate of apps.
Mobile apps are more efficient
Suppose a client wishes to access your products via the go first. To find your business, users must search, select your website, navigate the menu, and visit the "Product Page."
A well-designed mobile app, however, is bound to operate faster than a mobile site.
With a mobile application, your client can download it via the app store and gain access to it in the future.
Apps can also help users save time by storing their preferences and encouraging the app to take initiative for them.
New branding experience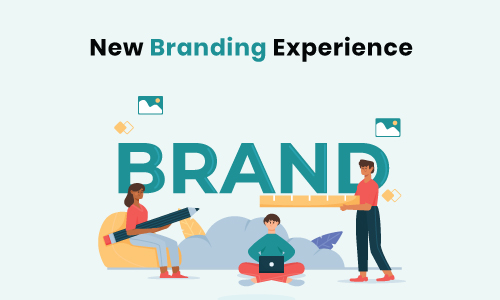 Since mobile apps are distinct from the website of a company, it can take advantage of offering a different brand experience to its users. This means that the company can try out new branding designs for the app that may differ from the standard method of the website.
Going one step further,mobile app development companies can develop mobile apps to transition into a new branding style.
Furthermore, mobile apps allow users to alter the app's appearance according to their preferences. This can help further on the personalisation aspect of the application.
Increased Conversion Rates
Your website requires mobile apps for many reasons, not least because it can improve conversion rates. Websites can have issues such as slow-loading pages, form-filling requirements, and difficulty finding what you're looking for.
All these issues can be reduced to an absolute minimum using an application. It is possible to use an app to send out offers and other marketing materials that customers will accept.
This makes it much easier for your customers to agree with your proposition, which results in higher sales. By allowing you to personalise your offers, it will also aid in increasing the rate of conversion.
Enhanced Customer Experience
Some customers may be annoyed and quit trying to buy when the website could be more convenient and easier to navigate. This could result in a loss of sales. However, the user experience may be better with a well-designed app.
The experience for customers is effortless since they can get what they require by pressing one button.
A positive experience can increase your sales and provide your customers with a pleasant experience.
Mobile Apps provide great value and offer more information.
Mobile applications hold tremendous potential to bring benefits to customers. Take a look at these examples:
Deliveries Location:
The delivery and travel industries will find this beneficial. Customers appreciate being able to verify the status of their buy and see the estimated or actual delivery time.
Mobile payments are ideal for businesses such as stores and restaurants where customers want quick payments. If you allow your customers to place orders beforehand and pick them up when it is convenient for them and time, it speeds up the process.
Mobile Rewards:
Any company that wishes to keep its customers engaged and interested should consider this feature. A customer loyalty program built within a mobile app can boost engagement and draw new customers to your service.
Your customers can get excellent value through apps in ways websites alone can't. You can find out more about your customers' habits by using an app.
It could reveal information like their location when they are online, what offers they liked, and those they rejected.
Final Words
We hope this article has helped you understand the importance of having a mobile application for your website. It will set your site on the proper course to promote your business. Apps can boost sales and attract customers who come back to you. They give you information that helps you make the right decisions and keep your customers content and loyal.
The development of an application for your site is something you should consider to boost the performance of your website. After reading these reasons why your site requires a mobile app, you realise the significance of a mobile app. If you're looking to create a mobile application or website or need help with ideas for apps, contact our team at KERYAR.