Over the past 10 years, smartphones have transformed our world. More people have smartphones to perform various tasks than they ever have before. With the increasing number of people using Android smartphones, there is a need for Android Developers. If you cannot determine whether to study Android Development, this article is for you. In this post, we have provided the top reasons to learn Android Development in 2022 to assist you in making an informed choice. This is a article on Android app development and why you use do it. Before we dive into the benefits of learning Android Development, let's shed some clarity on the basics of Android Development:
What is Android?
Android is an operating system for mobile devices to build numerous mobile applications. It was created by a group of developers called the Open Handset Alliance and launched by Google in September 2008.
According to Statista, the total number of smartphones used worldwide has risen to more than three billion in February 2020. Unsurprisingly, Android is considered the most popular among users among all operating systems available on various phones. Operating on numerous brands of smartphones and tablets, Android is a hit in all parts of the globe.
Who is eligible to become an Android Developer?
You don't have to be a professional programmer to master Android Development. Suppose you're a novice and want to make an occupation in Android Development. In that case, you can enrol in any of the online Android Development courses mentioned in this article.
What is the Role of Android Developers?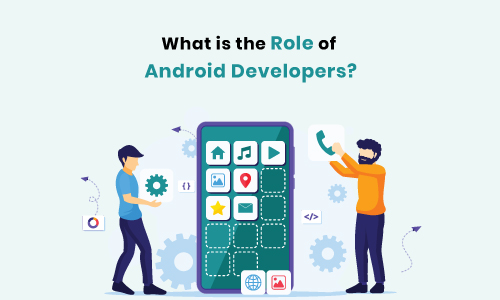 Android Developers create a variety of mobile applications using the Android platform. As part of their primary responsibilities, they make the applications we use on our tablets and smartphones. They often work with cross-functional teams to create better apps with fewer bugs. Android developers are accountable for making sure that the app is responsive and of high quality of the app when it is utilized.
It is an Open Source Technology
Android is an Open Source operating system. It is a mobile OS based on Linux. The operating system makes source code available to anybody to download and use. The Linux kernel employed in Android is covered by the GPL. Any modifications made to the source code must be made public when the binary (an executable and compiled piece of software) is released to the general public.
It gives developers great flexibility by making it easy to modify and edit programming codes.
Huge Device Market Share
Android has been the top-selling mobile operating system in the world for the past decade. However, it's not only an OS for smartphones nowadays. It is also the power behind many other devices such as Android Wear, e-Readers, Google Glass, and Android TV. For all these gadgets, the fundamentals are identical, as all run on Android. The company also has a dominant position in the world market. "It accounted for over 80 per cent of the world smartphone market in the fourth quarter of 2016."
Easier Entry to Market
To create an Android application, you must register as a developer, design your APK (Android Package Kit) and then send it off to the Android mobile platform for application development. This is a lot easier than registering yourself with the iOS platform. Are you wondering why? You're right... because the process of obtaining acceptance from Apple is a lot more complex and involves many steps.
Android apps are generally approved and released within a day. On the other hand, doing similar tasks in Apple's App Store takes a lot of time.
Enormous Market Share of Apps
Statista states, "As of the first quarter of 2020, the total number of apps available on Google Play Store for Android users was 2.56 million, apparently much more than 1.85 million apps available on Apple App Store for iOS users."
So why develop apps for Android? Due to the increasing market share of Android apps, large companies are seeking Android developers. This is why Android development has recently become the most sought-after professional career choice. When you master Android Development and start building apps, you can develop your Android apps available to millions of users worldwide.
A plethora of job Opportunities to choose from
Since the Android market is expanding quickly, the possibilities for Android Developers are also growing. If you want to pursue Android Development as a career option, you could easily find a decent pay package in this sector.
Android professionals have different job titles. Your expertise in mobile development may make you eligible for a variety of job titles in high demand, like Mobile Architect, Mobile Application Developer, Android Developer, Android Engineer and Mobile Embedded Software Engineer.
Suppose you're a novice or seasoned user of the Android operating system. There's never a better time to sharpen your Android capabilities and seek work opportunities.
Freedom
The career path of Android Development gives you all the flexibility and ability to work from wherever you'd like. An Android Developer does not have to need to have the 9-5 job. When you are in the field, you can decide to work for the company you joined or work at home as a freelancer. Many well-known companies today allow employees to work remotely. It would help if you ensured that your abilities and experience are highlighted in your resume.
Easy to Learn
Is Android development easy? Well Yes! Android development mostly requires knowledge of Java Programming Language. As one of the easiest programming languages to master, Java is many developers' first exposure to the fundamentals of Object-Oriented design. You can quickly develop profitable Android applications if you understand Java and Java-related concepts well. Other languages are available for Android App Development, such as Kotlin, C++, Python, and C#. Since there is no way to consider the best choice for Android App Development, the language is left to the Android Developers according to their goals and personal preferences for every project.
Final Word
Android Development is not only an easy skill to master but also in high demand. When you learn Android Development, you give yourself the best opportunity to reach any goals in your career that you set. Once you've started in no time, you'll get that dream job, get the chance to be promoted or start a profitable business that you own within Android Development.
So, these are the most compelling reasons to study Android Development. We hope these reasons will assist you in making the right choice on whether you should learn Android Development or not. Follow pages like KERYAR to keep up and learn more about app development!